A VND282 billion renovations-restoration project will restore the My Son Sanctuary, a UNESCO World Heritage Site in Central Viet Nam. Of the project fund, VND172 billion has been contributed by the government of Viet Nam and the rest is supported by the governments of India and Italy, and other international social organizations.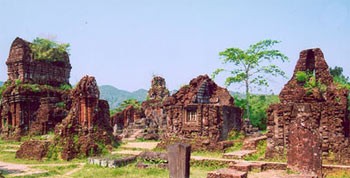 My Son Sanctuary
The project will be carried out on the main temples and towers as well as the natural landscape and other structures.
The project will be implemented in two phases, the first phase lasts from now until 2012 and the second will take place between 2013-2020.
My Son sanctuary is located about 69 km southwest of Da Nang city. It was the religious center and capital of the ancient Champa Kingdom.
My Son is a large complex of religious monuments including temples and towers, many dedicated to the Hindu goddess Shiva that comprised the Cham dynasty holly land between the 4th and 12th centuries.
My Son was declared a World Heritage Site by UNESCO in 1999.