The 'Vu Lan' Buddhist festival held annually on the 15th day of the 7th lunar month will be celebrated at the Suoi Tien Cultural Park on August 13-14.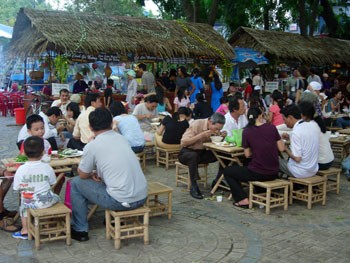 Visitors will have a chance to enjoy free vegetarian buffets during the Vu Lan Buddhist Festival in Suoi Tien Park. (Photo: KK)
More than 15,000 Buddhists are expected to take part in prayers and free vegetarian buffets during the two-day festival.
Music performances and cai luong shows honoring Buddhism will be highlights of the festival. All Buddhists will get free entry into the Park.
The main objective of the festival is for people to express their gratitude and love for their mothers.