Vu Thao My, from the northern province of Nam Dinh, won 'The Voice of Vietnam' singing competition, which ended at the Nguyen Du Indoor Stadium in Ho Chi Minh City on December 15.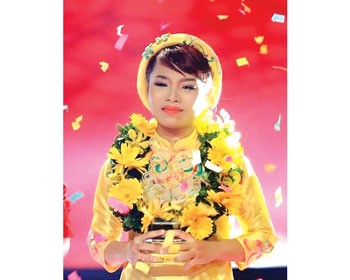 Vu Thao My wins 'The Voice of Vietnam' singing competition 2013.
The competition is the Vietnamese version of the US reality television singing competition 'The Voice'.
Vu Thao My received a cash prize of VND500 million and a recording contract with Universal Republic Records.
The youngest contestant of singer Dam Vinh Hung's team triumphed over his competitors with her strong voice and musical renditions. She also received huge support from a large number of audiences.
On the final night of the show, Vu Thao My, Vu Cat Tuong, Hoang Ton and Thao My amazed audiences with their singing talents.
The winner Huong Tram and runners-up Dinh Huong, Xuan Nghi and Kien Giang of the first season also joined the event, together with the runner-up of the third season of the American version of 'The Voice', Terry Mcdermott.
Aired on VTV3 Channel in May, The Voice of Vietnam attracted thousands of contestants throughout the country.
The jury included singers Dam Vinh Hung, Hong Nhung, My Linh and musician Quoc Trung who selected excellent contestants for their teams in the many competing rounds, including Blind Audition, Battle, and Live.