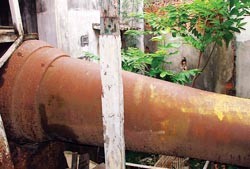 A cannon is covered by construction work. (Photo: SGGP)

The historical monument Cau Da Battlefield, in Vung Tau City, built by French colonialists in 1895, has been seriously damaged by nearby citizens despite its recognition as a national monument in 1994.
Four cannons of the battlefield have been completely concealed by construction work. The tunnel system and the 100-meter communication trench have been blocked and split into several plots for buildings such as a storehouse, bathroom, restroom, and garbage room.
This has reportedly been the case for several years yet local authorities have done little to prevent damage to the site.
The city should restore the battlefield, not only to uphold its historical values but also to make it an interesting site for tourists when they visit Vung Tau.