The eighth annual Week of the Italian Language, themed "Italian language on square", began in Ly Thai To garden, Ha Noi on Oct. 20.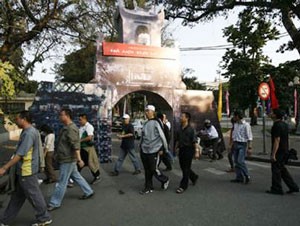 Ly Thai To Garden in Ha Noi  (Photo:TTO)
The week-long event includes movies shows, music performances, presentations on the Italian language and an exhibition of the Italian people's lifestyle.
The combination of the rhythmic Italian language and square space, usually located in city centres and serving as the venue for Italian people to hang out, offers an opportunity for Vietnamese people to learn about this special language, the organisers said.
The Italian Embassy in Ha Noi plans to hold a series of events to promote the Italian culture in November, including a banquet to introduce Italian cuisine.
The seventh Week of the Italian language was held in October 2007 in both Ha Noi and Ho Chi Minh City.