Closing ceremonies for Russian culture week took place at the Hoa Binh Theater in Ho Chi Minh City yesterday. The week's events strengthened ties between the two countries, Deputy Minister of Information and Culture, Do Quy Doan said.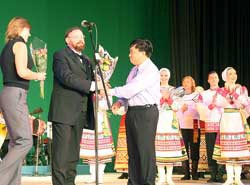 Mr. Do Quy Doan (R), Deputy Minister of Information and Culture,offers flowers to Russian artist Dmitriy Trapeznikov.
The festival featured many interesting cultural activities organized in Ha Noi, Ho Chi Minh City and Vung Tau, with participation by many well-known Russian artists including Murad Annamamedov, Marina Andreeva, Dmitriy Trapeznikov, Anatoliy Spivak, Evgeny Gurev, the M.E Piatnitsky National Folk Music and Dance Troupe, the Ha Noi and HCMC symphony orchestras and others.
Due to the Russian festival's success, a Vietnamese culture week will be held in Russia next year. The event is expected to be warmly received.
Related article:
A week of Russian culture