A six-day festival in Cambodia that opened on November 28 showcases images of the Vietnamese land and people and highlights the friendship and solidarity between the two countries.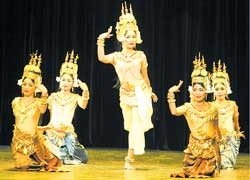 Cambodian cultural festival is held in Viet Nam last year.
The 2008 Vietnamese Cultural Festival was inaugurated at Chaktomuk Conference Hall in Phnom Penh with the Vietnamese Minister of Culture, Sports and Tourism Tran Chien Thang, Cambodian Minister of Culture and Art Him Chhem and other guests in attendance.
To be held in Phnom Penh and Siem Reap until December 3, it will see 40 Vietnamese artists showing off the cultural characteristics of their country.
It will feature exhibitions of photographs, paintings, traditional costumes, and ethnic musical instruments.
It is expected to provide Cambodians an understanding of Vietnam's renovation process and economic achievements.
On the occasion, an agreement for cultural and fine arts cooperation in 2009-11 was signed by the two sides.
The festival is being organized by the Vietnamese Ministry of Culture, Sport and Tourism and Cambodia's Ministry of Culture and Art.