Da Lat Flower Festival 2007, the biggest end-year cultural event in the country, themed "Da Lat Flowers, I love you!" will take place tomorrow in Da Lat, a tourism town of love and romance in the Vietnamese Central Highlands.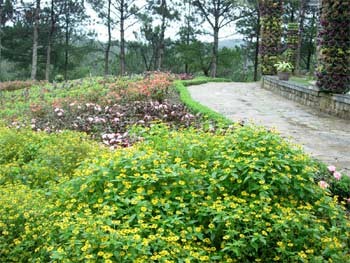 Everything is well done for Da Lat Flower Festival 2007. (Photo:KK)
The festival organized every two years will introduce to visitors many diverse activities such as a flower parade; a garden of stone sculptures; musical and fashion shows called Romantic Da Lat-Romantic Flowers; trade and cuisine fairs; a champagne and an ancient Vespa Scooter festival named "Charming Vespa" and many more.

One of the most anticipated events of the festival is the International Flower Exhibition Da Lat 2007, which will introduce famous flower-growing regions in the country as well as flowers from other Southeast Asian countries, and the Netherlands, the Republic of Korea, China, Japan, Thailand, Belgium and Denmark.

The show is an opportunity for more than 100 businesses from 24 provinces and cities across the country and foreign enterprises to exchange experience and present their products to partners. It is also a good chance to boost cooperation in the flower growing industry among participating nations.

Other activities will include the Miss Viet Nam Ethnicities 2007, the first beauty pageant for women from different ethnic groups throughout the country and a flower wedding entitled "Journey to Happiness" which is expected to attract 114 Vietnamese and foreign couples in order to mark the 114th birthday of Da Lat.

Visitors will be immersed in flowers for the occasion: flower valleys, flower hills, flower castles, and flower entrance gates. Flowers will bloom everywhere in Da Lat, especially on the streets and hot tourist spots such as the famous Yellow Valley, City's Park, Prenn Falls and others, said Mr. Nguyen Vu Hoang, Director of the province's Tourism and Cultural Festival Center.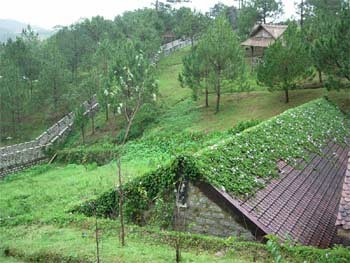 Flowers are everywhere in Da Lat. (Photo:KK)
There are eleven records to be set during the Festival, the organizers earlier announced.

Those expected are the largest wedding photo (78m high); the most beautiful flower gate and stage; largest wedding flower basket; most unique collection of sand paintings of flowers; longest wedding dress; largest wedding gift; largest wedding procession; most impressive wedding cake and flower; largest Dragon-Phoenix wedding lamps; largest pair of wedding tea packs; and largest pair of wedding wine bottles.

At present, 750 hotels with 12,000 rooms and a 1,000-strong lodging house network are ready for the upcoming festival, according to the organizers.

The opening ceremony of the festival will begin with a firework performance at an outdoor 7,000-seat theater in Xuan Huong Lake, to be attended by nearly all 1,000 artisans from six Da Lat's flower villages including An Son, Van Thanh, Ha Dong, Thai Phien, Da Thien and Da Quy and thousands of audiences. An event aiming at honoring horticulturists will be broadcast on VTV1 and last to December 21.

Related article:
Flower Wedding Waits For Married Couples-To-Be