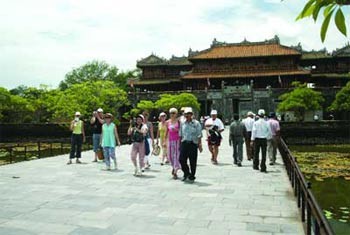 Hue ancient capital.
The third Quang Nam Heritage Itinerary Festival will take place from June 26-30 with the participation of artists from Laos, Cambodia, northeastern Thailand and elsewhere in the region.
One of the highlights of Quang Nam Province's biggest tourism event of the year will be the "Indochina Cultural Heritage Road", a tourist promotion that links the town of Hoi An, the ruins of My Son, Hue (Viet Nam's old capital), Wat Phou and Luangphrabang in Laos, and Cambodia's Angkor Wat.
There will be also fashion and music shows, a fair, an exhibition of photos and documents, and international seminars on the subject of World Heritage Sites and how to make the most of them.