Vu Huong Nam from the central highland province of Dak Lak and Vu Thi Thuy Dung from Dong Nai Province won first prizes at a writing contest which was part of a joint Vietnam-Denmark children literature project.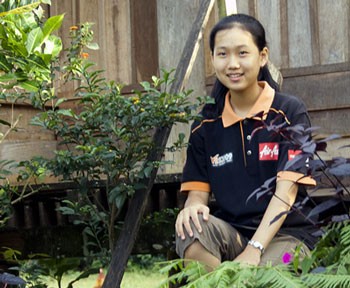 Vu Huong Nam (Photo: Vnexpress)
Vu Huong Nam got the highest marks for her work titled "Miraculous snail shell" in the prose category for age 10-14, themed "Green dream".
Chu Thanh Huong from the northern province of Lang Son and Tran Duc Tien from the coastal city of Vung Tau in Ba Ria-Vung Tau Province won the second and third prizes respectively in the category "Dream in a storm" and "The little angel in blue dress".
Vu Thi Thuy Dung won over the jury for her work "The spider has fallen into oblivion" in the comic category for age 3-6, themed "First friend".
Two second and third places belonged to "Best friend forever" by Tran Huynh Phu Khanh and a compiled double comic "Gathering bats" and "Little worm" by Dang Ngoc Minh Trang of Ho Chi Minh City.
The Vietnam-Denmark children literature project was launched a year ago by Kim Dong Publishing House and the Danish Writers' Association, receiving about 290 submissions from young readers.
Joint activities between the two countries aim to encourage children to read books and practice writing, as well as maintain children's reading clubs and publish children's literary works created by the two countries' young writers.
In addition, a series of cultural activities celebrating the 40th anniversary of Vietnam-Denmark bilateral relations will be held in Hanoi and Ho Chi Minh City from now until December 7, such as Denmark film week, art performances and exhibitions.