Vo Ha Tram, a 17-year-old vocal music student at the Ho Chi Minh City Conservatory of Music, yesterday evening won the "Star Academy" title after beating approximately 1,800 contestants nationwide. She was also the youngest contestant to enter the final round.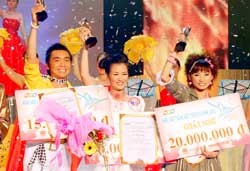 Vo Ha Tram (C)
Ms. Tram took home VND30 million (US$1,875) in cash prizes and subsequently donated VND20 million to flood victims.
Tran Thi Thu Huong, who is a 19 year old girl from the northern Bac Giang province took out the second prize, winning VND20 million while Mr. Nguyen Duc Quang received the third prize worth VND15 million.
The Ho Chi Minh City TV Station and the Cat Tien Sa Company organized this event. The contestants also received in addition to the cash prizes, scholarships worth VND27 million each from the Sai Gon Nguyen Kim Shopping Center.
The contest, titled 'Tieng Hat Truyen Hinh' in Vietnamese [TV singing voice] is based on the Spanish contest 'Star Academy'. The results of the show depend totally on viewers who watch the competition live on TV and send mobile messages to elect who is the best performer.
Ms. Tram received the most fans, totaling over 12,200 cell phone messages. The final round was held yesterday evening in HCMC Hoa Binh Theater.