The city's contest of excellent pupils in the school-year 2005-2006 held by Ho Chi Minh City Department of Education and Training has attracted 2,953 pupils from 24 districts and localities.
1,532 pupils were awarded the prizes, which makes up 51.8% of the total number of contestants.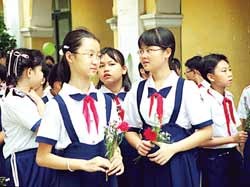 Secondary pupils of Tran Dai Nghia School for the Gifted
Go Vap District has the highest rate (89.05%) with 122/137 awarded pupils. Coming next are District 1, Tran Dai Nghia School for the Gifted, District 10 and Tan Binh District.

Tran Dai Nghia School has the highest number of 53 pupils awarded with the first prizes. Go Vap District, District 1, Tan Binh District and District 10 are ranked as second, third, fourth and fifth respectively.