Chairman of the State Council for Professor Title of Vietnam signed a decision to confer the titles of professor on 65 educators and associate professor on 638 teachers in 2016.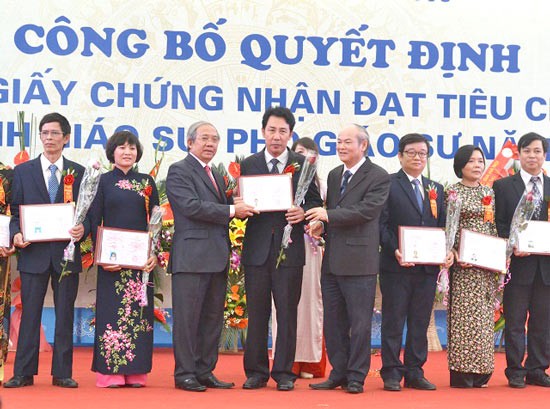 At the granting ceremony (Photo: SGGP)
Of these, retired teachers Le Thi Chieu, 1947, working in metallurgy filed, is the oldest teacher who was granted professor title and Tran Dinh Thang, 1975, a lecturer at Vinh University, is the youngest professor. In 2012, Thang was granted the title of Associate Professor.
Retired teacher Bui Manh Hung, 1950, working in construction field, is the oldest teacher who was granted the title of Associate Professor and 32-year-old Tran Xuan Bach of Hanoi Medical University is the youngest new associate professor.
Especially, the office of the State Professor Title Council also granted the Professor title in exceptional circumstances to Professor Dao Van Lap from Swinburne University of Technology in Australia.
The medicine sector has most teachers who were granted the title of professors and associate professors this year with seven professors and 114 associate professors. The economy sector has 2 professors and 72 associate professors.
This year, the country has 931 teachers who applied for professor and associate professor title.