About 1,800 students from eight universities in Ho Chi Minh City will start on October 26 a two-month contest on accounting, auditing, finance and banking, organized by the city's Banking University and the representative office of the UK-based Association of Chartered Certified Accountants (ACCA).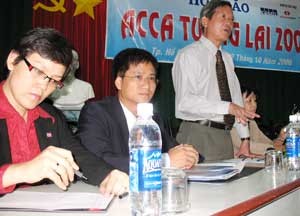 The contest organizers held a press briefing in Ho Chi Minh City Wednesday (Photo: Tuong Thuy)
The organizers announced the details of the "ACCA Futurists 2008" competition at a press briefing Wednesday in the city.
The competing students come from the universities of Banking, Economics, Foreign Trade, Marketing, National University HCMC, Open University, and Van Lang and Ton Duc Thang. They will be divided in 450 groups. The qualifiers are set for Oct. 25, followed by the semifinal round on Nov. 11 and the final on Dec. 6. A total of VND60 million will be for all awards.
"The contest aims to help accounting and banking students improve their skills needed for future jobs. It is also a good opportunity for them to market themselves to employers," Ms. Nguyen Phuong Mai, chief representative of ACCA Vietnam, said at the press briefing.
Mr. Tran Dinh Vinh, audit manager of the accounting and consulting firm KPMG Vietnam, agreed with Mai. "We immediately recruited four winning students in 2006 and five last year. These numbers did not include competing students who were taken in later," he said.
Ms. Mai added that the annual contest has expanded year after year, and the organizers plan to expand it to Hanoi students soon. Last year saw 1,500 students participating compared with 1,800 this year.
In related news, the Accounting and Auditing Faculty of the Banking University of Ho Chi Minh City is stepping further towards subjects required by the internationally recognized Association of Chartered Certified Accountants, said university vice rector Ho Dieu. ACCA Vietnam's Mai added students graduating from the university this year with a BA degree, if they want to pursue an ACCA affiliate certificate, which is equivalent to an MA degree, do not need to take examinations for four among all 14 subjects ACCA requires.
Ms. Mai said those students who graduated last year were allowed to be free from three, not four, subjects. Vice rector Dieu added given ongoing changes in curriculums at his university, the number of examination-free subjects for his student is expected to be six in the next few years.
Vinh of KPMG Vietnam said since ACCA is a global body for professional accountants in which he is also an affiliate, an ACCA certificate can easily get a global job for Vietnamese.
So far, a total of 346 Vietnamese have been ACCA certificate holders, according to Ms. Mai.