Not all colleges and universities in Viet Nam have finished their intake for the 2006-07 academic year but American insurer ACE Life has launched its scholarship program this school year for fresh students.
The life insurer's agents plan to award 200 scholarships, each VND2 million in cash, totaling VND400 million (US$25,000) to fresh students of State colleges and universities in the cities of Ha Noi, Hue, Da Nang, Can Tho and Ho Chi Minh City.
The beneficiaries are students coming from low-income families and having achieved excellent academic records at high schools and high grades in the recent college and university entrance examinations. Application will close on September 25, and ACE Life is due to present the scholarships on October 21, 2006 in Ha Noi and Ho Chi Minh City.
"Our scholarship fund aims to share difficulties with the community," said ACE Life CEO Lam Hai Tuan.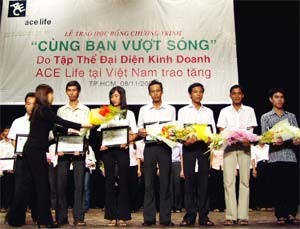 Ho Chi Minh City students receive scholarships from ACE Life in November 2005. (Photo: Tuong Thuy)
In November last year, two months after launching its first products in Viet Nam, the American life insurer awarded 40 scholarships, VND4 million each in cash, to first-year students of colleges and universities in Ho Chi Minh City. The sum also came from the company's agents. This year, its scholarship fund is expanded to Ha Noi, Hue, Da Nang and Can Tho.