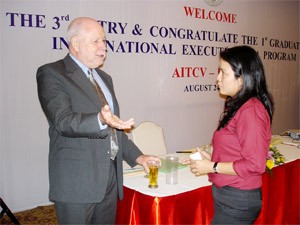 Dr. Fredric W. Swierczek talks with a student at the ceremony in HCMC Thursday (Photo: VH)
The Asian Institute of Technology Center in Viet Nam (AITCV) held a ceremony to welcome students of the 3rd entry of the International Executive Master in Business Administration program (iEMBA) in Ho Chi Minh City Thursday.
The iEMBA program is designed to be of great value to working executives from different backgrounds, expertise and disciplines.
It would provide the basis for managers to add a theoretical and practical aspect to their work experiences and enable them to acquire the necessary analytical tools, techniques and skills to improve their decision-making capabilities, said the center's lecturer at the ceremony.
The iEMBA emphasizes three dimensions: the current situation of companies operating in Vietnam, the operational environment for companies based in the Asia-Pacific region, particularly in ASEAN, and the globalization trend, especially the US, Europe and Japan in relation to the Asia-Pacific region, including Vietnam.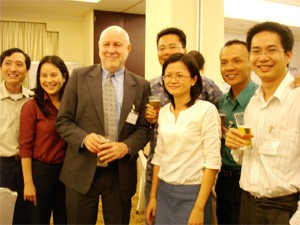 Dr. Fredric W. Swierczek and some of the new students pose for a picture at the ceremony (Photo: VH)
Nearly 40 learners will take part in the 16-month iEMBA program one week a month (in the evening and during the weekend), not to mention three two-week courses in Thailand.
The program will offer students a chance to further improve their problem-solving skills in English with foreign experts and Vietnamese lecturers alike.

Related Links:
AITCV