Educational organization Apollo in Viet Nam has started its UK Study Month program to provide information about studying in Britain.
The program is organized in partnership with the British Embassy, the British Council, British colleges and universities and former Vietnamese students from the UK.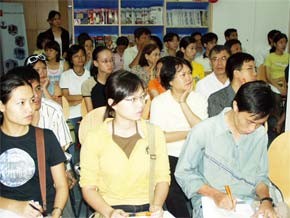 Vietnamese students and parents get UK study information at Apollo Ho Chi Minh City on March 26 (Photo: Tuong Thuy)
The participants will advise Vietnamese students about selecting suitable schools and courses, applying for visas, etc.
From March 25 to April 9, 2006, at the Apollo campuses in Ha Noi and Ho Chi Minh City, the organization is holding tests to select candidates for scholarships worth US$1,000 to US$7,500 each.
Scholarship winners will study for BA degree at Nottingham Trent International College, Nottingham Trent University; Sheffield International College, Sheffield University; Northumbria University; and Coventry University.
On April 9, Apollo will hold a seminar about what certificates Vietnamese high school students need to obtain from Apollo to go directly to colleges and universities in the UK, Australia, New Zealand and Singapore, according to Apollo.