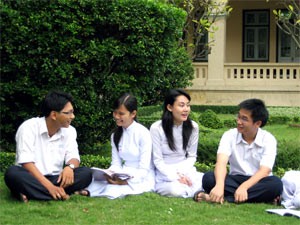 Teachers need to do what it takes to make schoolchildren believe that being back in school is not a damnation (Photo: TC)
For a long time, the start of another school year often meant tighter and more hectic schedules for schoolchildren, said the principal of a gifted high school in Ho Chi Minh City. One eleventh-grader attempting to kill herself in vain a week ago has called attention to the fact that the youth are being put under extreme pressure by the overwhelming quantity of school programs.
"I have noticed students under a lot of pressure for quite a while. They are often overwhelmed with heavy school tasks, not to mention the fact that each school has a different education scheme," said Mr. Nguyen Bac Dung, head of the Tran Dai Nghia gifted high school.
Some schools put academics as the sole priority and neglect the mental and physical health of its students. Educational institutions should balance the three aspects of knowledge, physical and mental health in each student, he added.
On October 18, Vietnamese students and educators were thunderstruck by the vain suicide of a high school girl named D.T.K.N, in Hoc Mon district, a suburb of Ho Chi Minh City.
The girl, who was excellent students for 10 years, was reprimanded for not finishing her extensive math homework. Previously, she had been criticized for not following the specific instructions of her teacher for a math quiz. She received a zero for her own answer despite the teacher's reluctant admission that it was another correct way to the right answer.
The unsuccessful suicide last week sounded an unavoidable warning to the educators, teachers and parents.
For the schoolchildren, they show great gratitude to their classmate's action which has finally awakened the educators to their overloaded program requirements that the students have been endlessly battling to fulfill.
Mr. T.V.M., mathematics instructor to the above-mentioned girl, showed genuine regret about his behavior on that day and affirmed that he would make some remarkable changes in his teaching.
For the school, some teachers said they were stressed by the heavy program and curricula appointed by the education ministry. Some of which, he said, are not practical and quite difficult to be adequately provided in such short and limited classes.
Teachers suffered from that pressure and students were inevitably next to follow.  Some schools were forced to open more intense or extra classes to provide for that which they could not accomplished in the regular class time.
If students were cramming all week, they would not feel the benefit of the knowledge, but the burden and resentment of excessive studying.
It's high time that educators modify their training regimens so they are appropriate to the learning capacities and healthy conditions of each student.
To alleviate the new school year blues, teachers need to do what it takes to make schoolchildren believe that being back in school is not a damnation.