As the Singapore Education Fair and the Australia Education Day will take place this month in Ho Chi Minh City, Ha Noi and Da Nang, twenty-four Singapore schools and over 40 Australian schools look to tap Viet Nam's scholarly potential.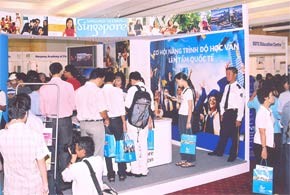 A booth in the Singapore Education Fair 2005 in Ho Chi Minh City crowded with visitors (Photo: Tuong Thuy)
Twenty-four Singapore schools will present themselves at the third Singapore Education Fair organized by the Singapore Tourism Board's Education Services Division at the New World Hotel in Ho Chi Minh City on August 20, the Green Central Hotel in Da Nang on August 26, and the Horizon Hotel in Ha Noi the next day.

This year, the Singapore Education Fair will welcome for the first time the Australian University of New South Wales, which has recently established a Singapore campus that will open this school year.
Visitors will find official information about various programs that the Singapore Government offers to support international students with grants, stipends for living costs and loans due upon graduation. The participating schools will also offer a number of scholarships. Seminars during the fair will give more specific information.
Representatives of over 40 schools from Australia will be present at the Australia Education Day on August 26 at the Hilton Hanoi Opera Hotel in Ha Noi, and the next day at the Sheraton Hotel in Ho Chi Minh City. This fair will be organized by IDP Education Australia.
Students attending the event are advised to bring along with their certificates and academic records so that the exhibitors' representatives can take a look for later recruitments or to decide on scholarships.
At last year's Singapore Education Fair, the government-backed Singapore Tourism Board announced that it would award three US$10,000 scholarships to three outstanding Vietnamese students to attend university in Singapore. After selecting the best students out of dozens of applications, the winners were announced this July.
Related article
Singapore Awards 3 US$10,000 Scholarships to VN Students