The Australian International School Saigon held the Open Day on Saturday, welcoming visitors to see the school campus and facilities, and to find out more about the school curriculum and philosophy.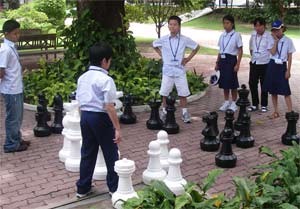 Junior students play chess at AIS Saigon. (Photo: Tuong Thuy)
AIS Saigon is located at 21 Pham Ngoc Thach Street, District 3, which used to be a campus of RMIT Vietnam University, an arm of the Royal Melbourne Institute of Technology.
"The first school day of AIS Saigon marks an important event in drawing Vietnamese and Australian ties ever closer. The school is proud to be offering a high standard of education and a high quality English language program to school students in Ho Chi Minh City," said Mr. Chris Faisandier, general director and principal of the school.
Mr. Mal Skelly, Australian Consul General in Ho Chi Minh City, said: "I believe that the AIS will be a very much welcomed investment in Ho Chi Minh City for its potential contribution to increasing education standards in Viet Nam."
Mr. Faisandier, in collaboration with the Board of Management, has developed the school's educational philosophy, curriculum design, staff appointments and policies. He has over 20 years' experience as principal of independent schools in Australia and New Zealand.
Mr. Nigel Russell is the foundation chairman of the Board of Management. Nigel is from Sydney, a lawyer, and the managing partner of Phillips Fox in Ho Chi Minh City. He has lived and worked in Viet Nam for over 13 years.
The school teaches New South Wales Curriculum from six to ten years, and then will switch to the International Baccalaureate (IB) for years 11 and 12.
The NSW Curriculum is taught in all government and non-government schools in New South Wales, Australia and in five other schools, including the Australian International Schools in Hong Kong, Singapore, Kuala Lumpur and Jakarta, according to AIS Saigon.
Meanwhile, IB is well recognised throughout the world as a credential ensuring IB graduates have access to a wide range of tertiary institutions.
Related link
Australian International School Saigon