Students of the Banking University Ho Chi Minh City have won all four team prizes of a two-month contest on accounting, auditing, finance and banking in the city.
The university and the Vietnam representative office of the UK-based Association of Chartered Certified Accountants (ACCA) co-organized the "ACCA Futurists 2008" competition, which started in October.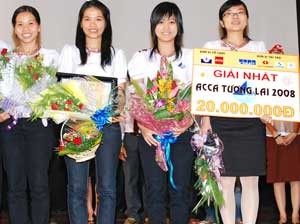 The first prize goes to team Big Four (Photo: Ngoc Han)
The contest is organized annually to help accounting and banking students improve their skills needed for future jobs. It is also a good opportunity for them to market themselves to employers.
Held at the university's Thu Duc District campus on the Saturday night, the final round wrapped up just before midnight, with all four prizes awarded to the teams from this university.
Big Four came first with a cash prize of VND20 million. The second prize of VND16 million went to Fang, while Wiki and Monsters ranked third equally, pocketing VND12 million each.
A total of VND60 million was used for prizes this year.
According to the organizers, the contest drew the participation of almost 2,000 students from eight universities in the city – Banking, Economics, Foreign Trade, Marketing, National University HCM City, Open University, Van Lang, and Ton Duc Thang.
Three winning individuals of the semi-final round, which took place last month, have been employed by the accounting and consulting firm KPMG Vietnam. The foreign firm and Vietnam's Techcombank were the diamond sponsors of this year's contest.
KPMG Vietnam audit manager Tran Dinh Vinh said, "We immediately recruited four winning students in 2006 and five last year. These numbers did not include participating students who were taken in later."
ACCA is an internationally recognized organization for professional accountants. KPMG's Vinh, who is an affiliate of the body, said an ACCA certificate can easily get a global job for Vietnamese. He added that holding the certificate, he had worked in the UK before returning Vietnam to join KPMG.
So far, a total of 346 Vietnamese have been ACCA certificate holders, according to ACCA Vietnam.