Binh Duong Teacher College will be upgraded to become Thu Dau Mot Univesity, said Deputy Prime Minister Nguyen Thien Nhan.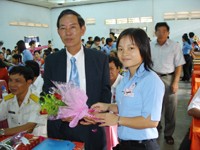 A student of Binh Duong Teacher College presents flowers to her teacher (Filed photo)
Preparation for the university must be completed following education law and enhance the training quality of Binh Duong Collge.
Thu Dau Mot University will train junior and high school teachers, and university professors. It will fulfill a wider role as a university and have a school of teaching.
Binh Duong College is in the southern province of Binh Duong and has more than 1,300 students.
Its main tasks for 2009 academic year include the continuation of 'studying and following Ho Chi Minh's moral examples' and updating teaching methods.
Students pledged to conduct a mobilization of 'Say 'no' to cheating in exams and work for success.'