The Boeing Company on Monday celebrated the completion of two schools in the Mekong delta province of An Giang and will hold handover ceremonies for two other rural primary schools in the central provinces of Phu Yen and Binh Dinh on October 27.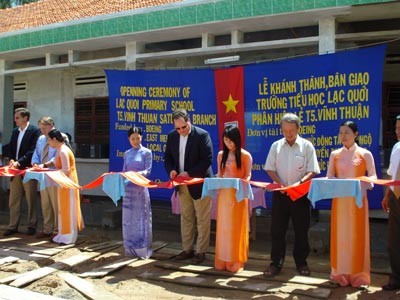 Lac Quoi primary school inaugurated on October 20 in An Giang (Photo:Bao Thien)
Boeing's US$300,000 rural school construction project in Viet Nam has been carried out in partnership with the East Meets West Foundation.

The schools completed thus far are: Lac Quoi and Thoi Son primary schools in An Giang Province; Xuan Tho 2 Primary School and Xuan Hoa Kindergarten in Phu Yen Province; and My Cat Primary School in Binh Dinh Province.

The schools are designed to meet national standards and use sturdy materials and techniques that will withstand annual typhoons, rainstorms, and severe winds.

Overall, the project provides an additional 24 classrooms in five new schools, 350 sets of student desks and additional furnishings, clean and hygienic restrooms, landscaping and school ground items (fences, pathways), and UV-treated water systems for safe drinking water.

Scott Mallory, a Boeing representative, said that his company intends to make long-term, positive contributions in community education for many generations.

Boeing first partnered with East Meets West in 2006 to construct a 12-classroom high school in Quang Nam Province. The company has also donated funds to EMW's disaster relief projects.

Among those who attended Monday's ceremony were U.S. Ambassador Michael Michalak; U S. Consul General in HCMC Kenneth Fairfax; EMW director of development Rad Kivette, Boeing representatives, provincial officials, and local partners.