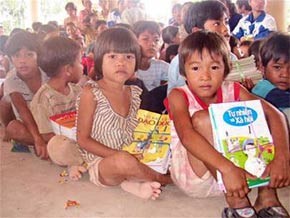 Ethenic minority pupils in Dong Nai provine are granted 100 textbooks.
The Ho Chi Minh City Education Publishing House opened a five-day exhibition of books and teaching aids at 231 Nguyen Van Cu, District 5 to celebrate the 61th anniversary of the August Revolution and National Day (September 2).
Over 6,000 book titles, notebooks, over 400 various maps, videos, CDs, VCDs, electrical books and nearly 1,000 teaching aids for new textbooks are on display at the fair.
Other activities will also be held during the exhibition such as author meeting, signing ceremony for foreign copyright purchase, painting and modeling contests.
On the closing day of August 20, 2006, gifts, books and charity money will be granted to poor students with good academic results.
Besides, more than 5,000 textbooks, 14,600 notebooks, 4,600 pencils, 1,900 pens, 363 rulers collected so far in a campaign themed "Accompanying children to school" launched by  the Ho Chi Minh City Communist Youth Union have been donated to students in remote areas of Ca Mau, Dong Nai.
Books for donation program can be sent to the HCMC Social Work Center for Youth (1 Pham Ngoc Thach, District 1) or any Youth Union chapter in the city until September 15, 2006.