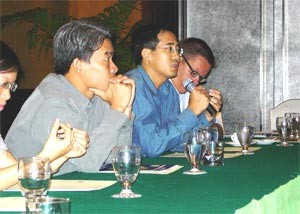 Participants are discussing the game with learners at the seminar (Photo:VH)
The Asian Institute of Technology Center in Viet Nam (AITCV) held a seminar on business simulation for learners of the first course on International Executive MBA (iEMBA).
The purpose of the seminar is to create opportunities for iEMBA alumni and new learners to exchange experience through the presentation on business simulation showed at the seminar and understand more about the iEMBA program.
As many as 28 students of the first course were divided into 5 groups. The wining team  had a chance to give their presentation of the business simulation game.
The game is designed to provide the participants with an engaging and realistic learning experience of managing and operating a company as a team, and systematically apply the learning to their business and everyday work.
A key driver is to create a competitive situation, where teams compete, like in the real marketplace. 
"It seems that everything on presentation is very easy and simple. In fact, it takes us a lot of time and energy to finish the work although it is just a simulation game. We can learn from many practical and useful experiences in the virtual game", said a learner at the seminar.
The seminar was organized in mid-April, 2006.