Ca Mau Province in the southern most tip of Vietnam has around 532 schools,   three quarters of which are located in remote rural areas, but if developed well can serve as key educational centres and bring about much development in the entire province.

Access to better education

Ngo Triu Men, deputy director of the Department of Education and Training in Ca Mau Province, confirmed that their top priority was to focus on upgrading and developing schools in the countryside so that students in these areas can have access to better education.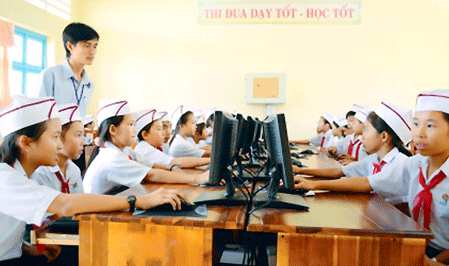 Students of Long Hoa Junior High in an IT class ( Photo: SGGP)
Not only that, the department has decided to standardise its entire school educational system, upgrading it in the process. The campaign titled 'Dream Bridges', for building 1,588 new bridge in remote areas and the program titled 'Building a New Countryside' are playing a  part in the development process in the province.

Ta Thanh Vu, head of the Bureau of Education and Training in Dam Doi District, expressed his concern saying that it was not a simple task to build a school which could satisfy all the five national standards set by the Ministry of Education and Training (MOET). Besides, the most difficult to acquire was sufficient capital, especially for remote areas.

Long Hoa Junior High in Tan Tien Commune in Dam Doi District was the first one to meet with some requirements for national standards.
According to Trinh Thanh Liem, principal of the school, Long Hoa Junior High has an area of approximately 5,000 sq. metres and at first operated with only four temporary classroom structures made from coconut leaves. In all, there were 150 pupils and 15 teachers.

In 2004, the local government helped build 6 basic classrooms. Still, 10 per cent of the students quit school every year. However, after several attempts to make it a success, authorities as well as residents of the area, reconstructed the school building.

Today, it has 31 staff members and 11 excellent teachers of district level and two of province level. The number of pupils passing their grades is mostly around 98 per cent, with half getting distinctions.

It seems that the movement to focus on education has brought about satisfying results, and will eventually see more development in the province.

Incremental changes

Sharing her experience of earlier hardships, Nguyen Thi Sang from the Mekong Delta Province of Dong Thap, a teacher of Long Hoa Junior High since 2004, said she was given the option of living in the school dormitory.

However, whenever there was a high tide, the dormitory was flooded and commuting became a problem. Also, besides teaching she had to persuade students who had quit learning to come back.
Compared to those tough times, now was much more comfortable with the school having an entirely new look. Everyone is also much happier after Long Hoa Junior High was recognised as a school meeting national standards.

Even though there are still small narrow lanes leading to the school premises, and about 300 of the 420 students go to school by boat, there are much less school drop-outs than before. In addition, every year about three to four students are awarded title of 'Best student' in the district and province.

Similarly, Ly Tu Trong Primary School in Khanh Binh Dong Commune in Tran Van Thoi District has turned from an obscure school with a dirt road, into a spacious facility meeting all the five national standards set by MOET in just one year.
At the beginning of 2006, the school received funds to rebuild 10 classrooms, eight utility rooms and one main hall. It also received around VND5.5 billion (approx. US$261,655) from benefactors to invest into new school equipment.
The narrow dirt road was widened to 3.5 metres with help from state budget. By the end of 2006, Ly Tu Trong Primary School became the first commune school to be recognised as a national-standard school.

These are a few successful examples of the movement to socialise education in Ca Mau Province.

At the moment, with nearly 7,000 classrooms, the province has no need to hold classes in temporary classrooms. In the near future, local authorities and citizens are focusing on a project to build and renovate houses for teachers.