The French-Vietnamese Center for Management Education (CFVG) introduced its Master in Business Administration (MBA) program to nearly one hundred Vietnamese students on Saturday.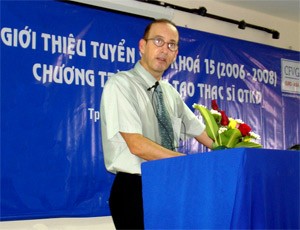 Professor Joël Broustail introduces the MBA program to youthful audience Saturday (Photo: VH)
The MBA programs expose students to a variety of subjects such as economics, organizational behavior, marketing, accounting, finance, strategy, operations management and international business.
These degree programs will prove invaluable help to anyone wishing to succeed in the world of business, and will enable learners to gain both the skills and knowledge to perform effectively in a cutting edge business environment, Professor Joël Broustail told the youthful audience.
Students will take part in the two-year MBA program every evening plus half a day on the weekend, and have the chance to further improve their problem-solving skills in both English and French with Vietnamese and foreign lecturers alike.
CFVG welcomes all university graduates who have at least two years' working experience to apply for the course.
The written entry examination will be held on September 9 and 10.
The deadline for applications is August 31. The selected applicants must pay a fixed amount of US$5,000 for the two-year course as tuition fees.
CFVG, founded in 1992, has a dynamic French-Vietnamese staff and is equipped with high-performance teaching facilities plus over 4,000 books, newspapers and magazines.
Many Vietnamese and foreign experts, businessmen and academics have been involved in the past 14 courses.
Related links:
CFVG