Raising community awareness of energy conservation is an important, long term goal of a national program aimed at reducing energy consumption rates. For this program to be effective, however, specific strategies need to be developed for each segment of society. One strategy is that achieving significant success in this area is letting children get the word out.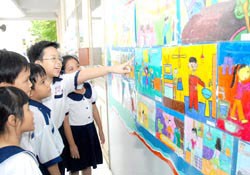 Pupils of the Nguyen Binh Khiem elementary school contemplate wining paintings.
A drawing competition for children was recently held by the Energy Conservation Center of Ho Chi Minh City and attracted many competitors. The aim of the competition was to get children to come up with different methods of energy conservation and then get them down on paper in the form of a drawing.
Not surprisingly, the kids came up with all sorts of ideas. Tran Ngoc Quynh, 10 years old, created a three-part picture illustrating the capture of rain water on the first panel, followed on the second and third panels by the water's use in washing clothes and then more generally for cleaning, bathing, etc.
Luu Quang Vu, 11, was more interested in conserving fuel resources. He produced a picture comparing the use of private and public transportation in order to demonstrate that using public transportation saves gas and reduces air pollution.
Many other methods were depicted as well, including the use of wind instead of electric fans, solar energy for power, and reducing the amount of lighting in public areas.

Mai Hoang Kim, who got an "A" prize for her ideas related to using wind and solar energy instead of electricity, had done a lot of research, getting her parents involved and using the Internet to gain a better understanding of just what energy conservation is all about.
Hong Tram was a little more down to earth – she sees conserving energy as being more closely connected to daily life, such as using hand fans instead of electric fans.
Parents and judges alike were amazed at how well the children were able to develop and convey their ideas on paper.
"At first, we were worried about the idea of the drawing competition for juniors because the topic is relatively abstract. But one month after its launch, 532 candidates had enrolled. It shows that the kids are passionate about the issue and that this type of event is a good way to get the word out to other segments of the population." said Ms Dang Thi Luan, who is in charge of raising community awareness about energy conservation.
 
To help raise the children's awareness of energy issues, the Energy Conservation Center of Ho Chi Minh City has organized many other extra-curricular activities for elementary school students as well
Ms Le Thi Ngoc Diep – principal of the Nguyen Binh Khiem elementary school, emphasized that after participating in the extra-curricular activities, children seemed to spontaneously remind one another to switch off the lights when leaving rooms or to try to use less water, etc.
Participation of children in extra-curricular activities is not new to them, however, the topic of energy conservation is. It seems though, that encouraging the children to learn about the issue is also helping to promote awareness in other segments of the community as well.