The Ho Chi Minh City Study Encouragement Society gave away scholarships worth VND 989 million (US$59,000) to 720 poor students last Sunday at an annual function organized by the society for the purpose.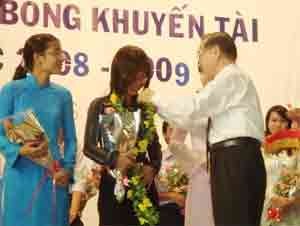 Former Prime Minister Phan Van Khai offers flowers and scholarships to students. (photo : Tuoi tre)
Of them 520 got Study – Talent Encouragement Scholarships each worth VND1.5 million.

The society reported recently that it has been funded by 190 individuals and enterprises. In the last nine years it has been functioning the Society has granted scholarships worth VND 9 billion (US$535,700) to poor students in the city.

Of them, 184 have since become university graduates, with some getting scholarships from foreign universities.

Former Prime Minster Phan Van Khai was present at the meeting and accepted the society's invitation to be its honorary chairman. He promised his best efforts to help the society in its campaign, saying education and knowledge are key factors in leading the country to prosperity.

Mr.Khai also appealed to the public to donate time and money to the campaign.

The society and the Fatherland Front Committee of Thu Duc District granted nearly 100 Study – Talent Encouragement Scholarships worth VND 75 million (US$4,464) the same day to poor students in the district.

The scholarship money came from the district's For the Sake of the Poor Foundation.

The foundation has received over VND 1.3 billion (US$77,400) from benefactors this year.