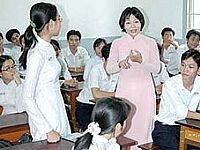 Coaching courses for 10th grade entrance exams are officially banned
Entrance exams for the 10th grade have been held at high schools with high pressure of enrolment by Education Department in Ho Chi Minh City in 2005-2006 school year.
However, tutoring students before the exams is disagreed by the mass public.
Therefore, Mr. Huynh Cong Minh, Director of Ho Chi Minh City Education and Training Department, signed a document on March 30, 2006 asking the principles of high schools (public, semi-public, people - founded) and part-time continuing education centers absolutely not to coach students before they take the 10th grade entrance exams.
Paid tutoring fees will have to be refunded to students.