The numbers of Vietnamese students receiving visas to study overseas has continued to increase over the years. Yet, 70 percent do not return after graduation.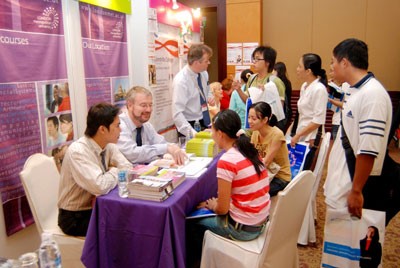 A workshop for students who want to study in the UK (Photo: Q. Tuan)
A deputy head of a high school for gifted pupils in Ho Chi Minh City, Nguyen Thanh Hung, recalled one of his former students who had won a golden medal at an international competition for computers and went on to be a research student in US.
The gifted student promised to return to Vietnam after graduation yet married abroad and cannot keep his promise to his old teacher. His 10 classmates are also studying and living in US.
A former student of Le Hong Phong High School for gifted pupils, who was offered a scholarship to pursue a Masters in wireless technology in US, is determined to stay abroad, even though his family is in Vietnam, as his chosen field has not yet developed in Vietnam.
Talented students have decided to stay in many foreign countries, such as US, Canada or Australia.
Some 150 students of Le Hong Phong High School, 100 from Tran Dai Nghia High School and 40 from Ho Chi Minh High School for gifted pupils are annually provided visas to foreign countries. Likewise are Nguyen Thuong Hien and Nguyen Thi Minh Khai high schools.
Studying in Singapore is placed in the top destination of places for quality training, affordable tuition fees and living costs. The Singaporean government also provides a loan to students to pay 80 percent of tuition fees and the university will offer support of 20 percent loans with low interest.
Maximum length of the loan is 20 years. Students receiving these loans must pledge to work for three years in Singapore.
There have been several enrolments over recent years, with scholarships for students from ninth grade to university level. Vietnamese educators are worried that with such special treatment Singapore will attract and keep all the excellent Vietnamese students.
It is not only Singapore but Canada and Australia which also have open policies to overseas students.
Tran Van Quang, director of Canadian Education Center in Vietnam, said that overseas students can apply for settlement in the country after three years after living there.
Educators have different reactions to the 'flowing of good students to foreign countries.'
Nguyen Bac Dung, headmaster at Tran Dai Nghia High School for gifted pupils, is happy when his students have a chance to seek education in a foreign country while his cousin, Vo Anh Dung – headmaster at Le Hong Phong High School said that he is sad because Vietnam and his school spends much time and energy training a good student and then they work for another country.
Dung added that it is a waste of money to pay $20,000 a pupil in foreign countries while Vietnam needs a lot of currency and personnel for development.
The problem is that there are little appropriate jobs for those who return to Vietnam.
A spokesperson from Da Nang's Department of Education and Training complained at meeting last year that there are not enough adequate jobs for those returning.
The question concerns the problem of 6,000 students who return and how the government can create reasonable jobs.
The government needs to develop a strategy to better use talented persons.
One way, according to an educator Vo Anh Dung, is to improve training quality and reduce dollars flowing into other countries. Relevant authorities should have information, such as their majors, which schools and in which countries, about Vietnamese students studying overseas. When Vietnam sets up a project and needs a counselor, authorities can send invitations to the right person.
Reviewing developed countries like Canada, Germany and Singapore, they have lost excellent students but they offer special treatment to returnees. Vietnam should implement strategies to attract the talented to work for the country.