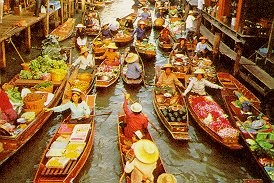 Thai lifestyle can be learned through the "Exploring Thailand" contest
The contest "Exploring Thailand" organized two months ago has received over 9,000 entries from individuals and groups in Viet Nam's central coastal city of Da Nang and other provinces.
The program was launched May 5 to celebrate the 30th anniversary of the diplomatic relations between Viet Nam and Thailand (August 6, 1976 – 2006).
The contest aimed to help Da Nang's students and citizens learn more about the history, economy, culture and people of Thailand, an Asian country famed for its tourist industry over many years.
The organizing board held the contest in the hope to hear the awareness of Vietnamese about the cooperative relation, and to strengthen the friendship between the two nations in general and Da Nang City and northeast Thailand in particular.
The award ceremony will be held on August 6, 2006.