Despite their best endeavor to learn their lessons, most Vietnamese students can hardly remember them. Why?

At an oral history test, a high school student couldn't provide the answer to a teacher's question about the Battle of Dien Bien Phu. She gave a confused account of what happened and could not arrange related events in chronological order.

After getting a low grade, she sobbed, "No matter how hard I try learn this lesson, I can't remember it. Maybe I'd better quit school and look for something else to do."

Some may rationalize her failure as ineffective study methods. The history teacher, however, attributed it to overload and texts' impractical contents that, according to him, make the learning excessively hard for average students.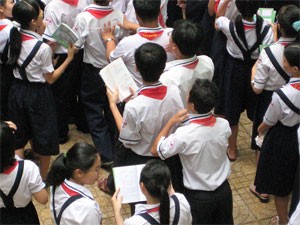 Many pupils review lessons together during break time
He explained, "To meet the curriculum's requirements, students have to "swim" in theoretical texts. And when they're worn-out, they will have little choice but to quit." 

He added, "Many lessons turn out to be too boring to remember. Those whose test papers get nine or ten marks will soon forget what they learned. How can such textbooks help children and young adults acquire a confident understanding of a subject so they can use it for the intended purposes?" 

While all parents expect their children enjoy lively and fulfilling hours at schools, students on the contrary struggle for what little they lastingly learn. 

Students study day and night, even in their break times. During break at an elementary school in District 1, while others play and shout, many pupils gather in small groups in the corridors to review their lessons. 

One says, "I'm learning my geography lesson again. I did learn it last night and it looks like I can't remember anything now either. The lesson is rather long and has nothing to do with real-life. It's too hard to be learnt by heart!" 

While Vietnamese students go to school as if going to their own funeral, those in modern nations are often able to thoroughly enjoy their studies. So what's the difference between the Vietnam's curricula and those in developed countries?

While a fifth grader in Viet Nam has to learn ten subjects including mathematics, Vietnamese, geography, history, sciences, music, drawing, physical education and morality, his peers in an elementary school in the US only has to study on mathematics, popular sciences, history and writing. 

This isn't, however, to say pupils in the U.S. have a light study program, said Ninh Nguyen, an overseas Vietnamese parent living there. The point is the children in modern countries are entitled to reasonable training program using a set of course books with practical and useful contents that help them more easily remember what they have learned so they can acquire the knowledge necessary to grow and succeed. 

Besides theoretical lessons, what benefits the pupils most overseas are projects, assignments and tests under which realistic and lively questions are raised. Besides, regular field trips to museums, zoos, monasteries, oceanographic institutes, and so on, help students approach and learn a lot from real-life situations. 

So, the difference between Viet Nam and the modern countries' education is the method of training which is framed by the curriculum and course books. While education in modern countries focuses on offering students as much practical knowledge as possible, pupils and students in Viet Nam are still only given bookishly bent and dogmatically routine educations.

In order to offer something like the practical educations available in advanced nations, and purportedly meet the needs of modern students, Viet Nam's education sector in will have no choice but to regularly renovate its curricula and rewrite its texts in line with evolving socio-economic needs, just as all modern education systems must.