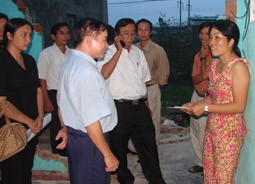 Aid workers give relief cash to Da Nang's university students yesterday
The majority of Da Nang's university students returned to school yesterday, ten days after Typhoon Xangsane had torn through the central region.

All bar 1% of the economics students resumed their formal schooling, whereas 7% of the student teachers failed to turn up for class.
In the case of the damaged University of Foreign Languages, no-one went back as the campus is still being rebuilt.
Mr. Tran Dinh Mai of Da Nang University said the schools were urging residents to rebuild rented accommodation as a matter of urgency so that the students could continue their training without further disruption.
Da Nang University has finished repairing 50 of its dormitory rooms. Even though the nearby University of Technology promised to assist by billeting 350 students, more than 700 are still homeless.
Young volunteers from the university's youth union are helping out by re-roofing the rented flats that were damaged.
Charities and aid agencies have also assisted by giving books and hundreds of boxes of instant noodles to the students affected by the giant storm.