From April 8-9, 2006, Global Art & Creative Viet Nam (GAC Viet Nam) will organize a painting program entitled "FreeTrial" at the Saigon SuperBowl (A43 Truong Son St., Tan Binh Dist.) Anyone interested in painting can join the program free of charge.
Young learners at the Global Art & Creative Viet Nam.
By the end of April, the center will launch the program in other location around Ho Chi Minh City, including the Diamond Plaza, Parkson Saigontourist Plaza, ect.
Also, in the summer of 2006, GAC Viet Nam will open its branches in district 1 and 7.
Global Art & Creative Viet Nam
Established in 2005, Global Art & Creative Viet Nam (GAC Viet Nam) is the first and only company to provide a complete, systematic and efficient art program with numerous interesting activities and lessons, aiming at developing the artistic and creative potential of children.
With the current learner population of 200, GAC Viet Nam launches art and creative drawing programs to enhance children's mental development, and enrich their imagination and potential creativity.
Doctor Mahair Goh, the founder of Global Art & Creative Sdn Bhd Group in Malaysia, says parents do not send their children to art lessons because they want their kids to become artists one day, but that they just want their children to stand a chance of growing up in an environment of rich thinking, overall development and full creativity.
Free Painting Exhibitions and Competitions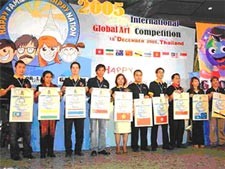 Staffs of GAC Viet Nam in the international Global Art Competition 2005 in Thailand.
Since 2005, GAC Viet Nam has successfully organized many free painting competitions and exhibitions, aiming at creating a useful, sane and safe playground for Vietnamese youths who are interested in painting.
In July 2005, the first seminar on the development of modern creative painting was attended by many interested parents and their children at the GAC Viet Nam Center (435, Su Van Hanh St., District 10, HCMC).
Recently, to celebrate the Women's Day on March 2006, a painting competition titled "Mom and Child" was opened for children under 10, aiming at establishing a close relation between GAC Viet Nam and Vietnamese young talents.
Besides, two Vietnamese learners of GAC Viet Nam were reportedly awarded high prizes in the international painting competition in Thailand, held by GAC Malaysia.
Related link: