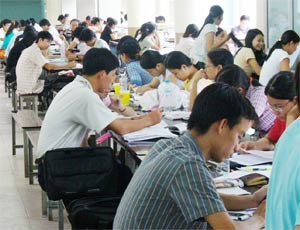 Students are studying at a private educational center. (Photo: TK)
The Ministry of Education and Training recently urged under units to carry out regulations on private educations especially applied to local universities, colleges and educational institutions offering university coaching courses.
Mr. Le Quang Tan, Director of the High School Education Department, said that although regulations pertaining to the provision of private education issued by the Ministry of Training and Education came into effect on Jan 31 of this year, many regional departments of education have failed to issue implementation guidelines to local educational institutes and individuals offering private instructions.
As a result, the Ministry issued a memo (aimed especially at universities, colleges or institutes offering university coaching courses) urging them to do so.
The memo also emphasized the point that any educational institute or private instructor under the management of a university or college that applies for a license allowing them to offer private tutoring for high school or university studies must obtain the university or college's board of management's approval in writing.