The People's Committee in the highland province of Kon Tum on February 25 announced plans to provide over VND13 billion (US$625,000) for an education development program that will benefit two ethnic minority groups during the period 2011-2015.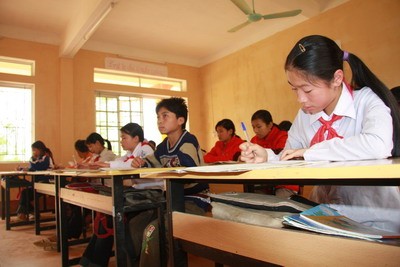 Brau students  studying at a school (Photo: GD va Thoi Dai)
The education development program will benefit the Brau and Ro Mam ethnic minority groups living in the province.
The program has two aspects. The first will be to construct adequate facilities and provide necessary equipment for primary schools and the other will be to support the children and students attending the schools.
For instance, a kindergarten child will be given a stipend of up to 30 per cent of the basic salary, to support studies each month; a primary student will be given up to 40 per cent per month, a day boarder and a high school student living in boarding school will receive 60 and 100 per cent respectively.
The Brau ethnic minority group lives in Dak Me village in Bo Y Commune in the border district of Ngoc Hoi and the Ro Mam ethnic minority live in Le village in Mo Rai Commune in the border district of Sa Thay.