At a meeting in the Mekong Delta province of Tien Giang on August 11, Minister of Education and Training Nguyen Thien Nhan emphasized that student performance quotas would no longer be imposed in Tien Giang schools, as these quotas often lead schools to fabricate test scores for fear of government punishment.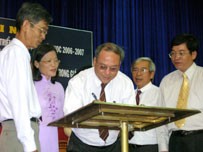 Headmaster of schools in Tien Giang signed a pledge to encourage educational reforms
Schools will also transform their teaching methods as traditional styles are out of date.
Previously, most classes consisted of a teacher reading from a book and students taking notes.
Now, classes will be taught in a more open, idea-based lecture format where students will be more able to actively participate and ask questions.
The minister stressed that teachers must be role-models for pupils.

The campaign against education fraud must be fought on all fronts with the combined efforts of all educators in the country.
Leaders and headmasters of 51 educational bureaus and schools in Tien Giang thus demonstrated their commitment to the campaign by signing a pledge to encourage reforms aiming to curb corruption among students and teachers.
Tien Giang is the first province in the South to initiate such a campaign.
At the meeting, Minister Nhan also listened to school leaders' proposals and suggestions for the Education and Training ministry.
Headmaster of Tan Hiep high school Nguyen Van Ky proposed that continuation schools should be abolished because they are often hot-beds of educational wrong-doings as fake students receive "true degree".
Minister Nhan also paid a visit to Hung Vuong Co. Ltd., whose director Mr. Duong Ngoc Minh promised to donate VND1 billion towards Tien Giang's educational system reforms.

Links:
Education Minister Aims to End Wrongdoings in Schooling
Minister Praises An Giang for Honesty in Exams
Say No to Wrongdoings in Exam, Says New Minister