A ceremony honoring entrepreneurs and benefactors who have made outstanding contributions to the development of the country's education system will take place next month in Ha Noi, said an official from the Ministry of Education and Training (MoET).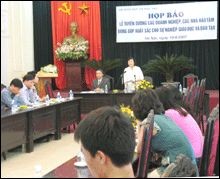 At a press conference, the MoET releases the news of the ceremony honoring contributors to education sector in next month
It is hoped that the biennial ceremony, taking place for the first time this year, will draw attention to the need for further contributions to this crucial area of development.

Domestic or overseas contributors who have built schools, given land for building schools or funded the education sector since 1990, will be applauded.

Those who donated between VND300 million and VND1 billion will be granted medals and certificates of merit.
The MoET has also proposed that group donations of more than VND3 billion and individual donations over VND2 billion should receive personal praise from the Prime Minister and State President. 

The MoET will also make a list of disadvantaged areas in order to highlight the need for more donations in those areas.