Yesterday in Ha Noi, Prime Minister Nguyen Tan Dung, Chairman of National Education Council, chaired a meeting to assess the results of the country's 2001-2010 educational strategies and outlined strategic plans for 2008-2020.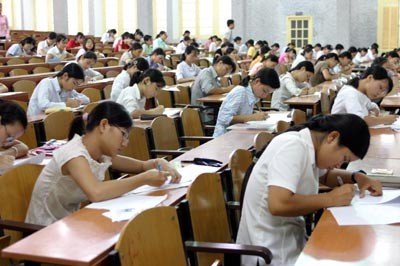 The MoET is requested to prioritize education development, especially in tertiary education

 

The PM stressed that by 2010, the education sector must make great achievements in vocational training to meet society's needs, specifically, over 50 percent of the workforce need to be equipped with skills meeting market needs. 
PM Dung asserted that to help the underprivileged and poor acquire skills, Government is ready to mobilize resources and the MoET is directed to propose policies to attract investment and support from all economic sectors, local and overseas. 
As to assessing the 2001-2010 educational strategies, the PM directed the MoET to revise its objectives to better improve the operations of the nation's education system. 
The PM also directed the MoET to prioritize education development until 2010 and accordingly revise financial and land requirements.
Dung emphasized the need for continuous improvement, especially in tertiary education and the national educational system.
Of note, Viet Nam has been given loans by the World Bank and the Asian Development Bank to build four universities meeting international standards.