Everyone will have access to education by 2020 under a Strategy for Education Development for 2009-2020 released by the Government at a meeting December 18.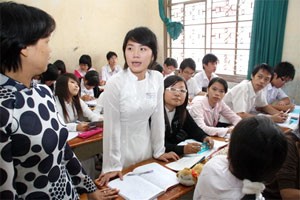 A 12th grade class in Ho Chi Minh City. A government roadmap for changes to the education system envisages 80 percent of the population graduating from high school by 2020 (Photo: TT)
Deputy Prime Minister and Minister of Education and Training Nguyen Thien Nhan highlighted the draft's main contents.
 
In envisages 80 percent of the population graduating from high school, every district in the country having regular educational centers, 95 percents of communes and wards having study centers, and 60 percent of workers receiving training.
 
It also targets 99 percent of all children and 90 percent of ethnic minority children attending primary school at the correct age and 70 percent of disabled children and 95 percent of poor children getting assistance to attend school.
 
The country should have 450 students for every 10,000 population, with 40 percent studying in non-State universities.
 
There will be at least five universities ranked in the top 50 in the region and two in the top 200 in the world.
 
Four universities meeting international standards will be up and running by 2015.
 
"They will be modeled on [those] in Russia, France, the US, and Japan," Mr. Nhan said.
 
"The four will be public and financed by the State so that fees will not be an issue for students," he underlined.
 
Prof. Dr. Nguyen Huu Chau, director of the Vietnam Education Institute-- which compiled the draft -- said students would be trained to think independently and creatively and adapt to circumstances.
 
Mr. Nhan said to create healthy competition and encourage teachers to work harder, the permanent employment scheme must be wound up.
 
A new contract-based scheme will be piloted at some high schools and universities next year before being applied universally in 2010.
 
In another major change, the draft says vocational education system will be managed solely by the Ministry of Education and Training instead of jointly with the Ministry of Labor, Invalids and Social Affairs.
 
The draft also spells out measures to improve the curricula and study materials, school system, and administrative and financial systems.
 
It sets out 14 targets, including attracting overseas Vietnamese and foreigners for their expertise and technologies.
 
The draft points out five weaknesses in the educational system -- the slow update of university curricula, lack of school infrastructure, inefficiency of teachers and administrators, poor education quality, and failure to focus on vocational training.