Whether or not English will be introduced into elementary schools nationwide as a mandatory subject for pupils from third grade onwards as a part of the 2008-2020 strategic education development program will be decided by a referendum. Le Tien Thanh, Director of Ministry of Education and Training's Primary Education Department, weighs in on the obstacles to implementing the program if it is approved.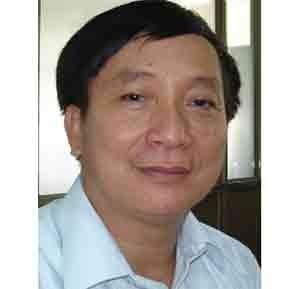 Mr. Le Tien Thanh (Photo: TT Online)
Since 1996, English has been included in the curriculum as an optional subject for pupils between third and fifth grades in a number of elementary schools in big cities that can hold full-day classes.

In 2003, the Ministry of Education and Training approved the introduction of the three first volumes of Let's Learn English, a six-level course in English, as model textbooks for elementary English learners.

Such textbooks are now being edited to make it more accessible to Vietnamese pupil so that they can be used for teaching in more elementary schools next year.

However, it is really hard to evaluate the efficiency of the textbooks. Since English is just an optional subject now, each school applies a period of teaching per week on its own. Moreover, the quality and professional qualifications of a number of English teachers in elementary schools are still questionable as they have been recruited from different sources, due to the current shortage of teachers majoring in English. There are also no official standards to assess their teaching ability.

If the plan is approved, the education sector must have at least 15,000 qualified English teachers for 15,000 elementary schools nationwide by 2010. The figure is expected to increase between 30,000 and 40,000 by 2010.

It is really hard for the education sector to start the program in 2010, taking into account of the current severe shortage of qualified English teachers. The whole country now has only 6,000 teachers majoring in English, and the national pedagogical system can only supply between 300 and 500 graduates every year.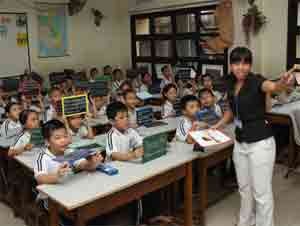 Third graders of Kim Dong Elementary School study English as an opitional subject (Photo: Tuoi Tre Online)
Another problem is the shortage of classrooms. Not all schools, especially those in remote areas, have enough rooms to hold full-day classes for their pupils. At present, some 65 percent of pupils nationwide still study one class a day. Yet another obstacle is that elementary schools will have to change their curricula so that English can be added and taught for about four hours per week.

To make the program possible, there should be a trial phase at the outset in which only qualified schools are asked to apply the program. Only when all problems related to school facilities, quality and quantity of teachers, teaching aids and official textbooks are solved, should the program be expanded officially to all elementary schools in the country.

Elementary schools in remote areas that can hold two sessions of classes a day, should teach a more practical subject than English in the second session. English need not be taught in these schools until a real social demand for it arises.