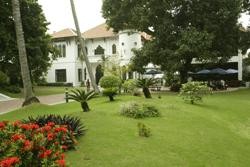 The first international university in the village is expected to be on construction by early 2008.
The People's Committee of the Central Highlands province of Lam Dong has started a project on building an international university village in Lac Duong district, where some 10,000 students of Viet Nam and other Pacific Asian countries will be trained in the fields of medicine, information technology, bio- technology and law.
Apart from lecture halls and dormitory, the first university village in Viet Nam will also be constructed with sports house, hospital, bank, hotel, post office to satisfy the various needs of teachers and students.
"Many famous universities in the world, including Medicine University of Paris, three universities of the US, Japan and Australia have asked for opening their campus in the village," said Mr. Pham Van Vuong, Party Committee Secretary of Lac Duong district.
According to Tri Viet Company Ltd, investor of the project, it will invest about US$500 million to build infrastructure from now to the end of 2007. The first international university is expected to be on construction by early 2008.