Asia-Europe Co. Ltd - Professional Training and Overseas Study Agency- 52 Tran Huy Lieu Street, Phu Nhuan District and the Asia-Europe Foreign Language School of the company have just been certificated ISO 9001:2000 by BVQI - independent certification body of Bureau Veritas.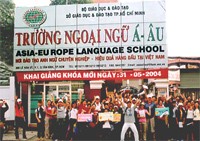 Students at the front of the school
This is the first Vietnamese foreign language school granted ISO certification. Asia-Europe Co., Ltd., for over six years in operation, has successfully consulted tens of thousands of Vietnamese pupils and students to study abroad. Some of them have succeded in studying and come home for work.