The Government encourages individuals and organizations to attend in schoolbook compilation on the basic of the nationwide general education program approved by the Ministry of Education and Training.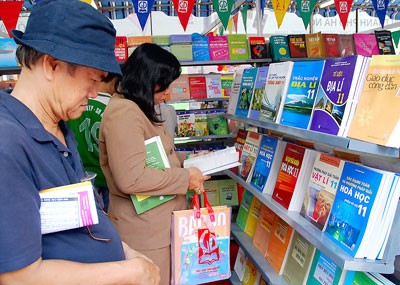 Parents purchase texbooks for their children (Photo: SGGP)
It is part of an action plan issued by the Government recently to implement the Resolution 29-NQ/TW on overall education and training reform.
 
The innovation will focus on developing students' ability and virtue, creativeness and self-study awareness, and improving their foreign language and information technology. Another purpose is to help students apply school knowledge in the reality.
 
Fact-experiencing activities will be increased to educate students' morality, lifestyle and soft skills.
 
The action plan will also build up an electronic lecture system for teachers and students to refer to.
 
High school finals will be renovated towards a general exam which results will be used by universities and colleges to enroll students. An independent testing center will be established.
 
The Government will map out a mechanism to determine enrollment norms for universities, colleges and vocational schools annually, basing on the labor market demand and the ratio of employed graduates.
 
Education quality estimates are planned periodically nationwide and in each province. Students will be able to reserve their learning outcomes for inter-college programs in the national education system.
 
Wage and bonus incentives will be put forward to attract high-quality human resources. The action program also mobilizes the society attendance to invest in infrastructure system.
 
Schools and vocational centers are prompted to work with prestigious organizations domestically and abroad to improve training quality. Students from public and private schools will be treated fairly under the Government's regulations and policies.