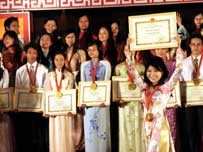 Outstanding students are honored at the award ceremony in Ha Noi Tuesday 

Ha Noi honored its best students of 2005 in a ceremony at the famous Temple of Literature on Tuesday.
Among them were 93 university graduates with outstanding academic results, a full third of them being Communist Party members who were praised for their contributions to society and their fellow students over the years.
Also present were the top 100 students of 2005 along with the four high school leavers with perfect scores in the university entrance examination.
The ceremony is held every year by the Hanoi Youth Union and Students Association with sponsorship from the Ha Noi People's Committee.