Ho Chi Minh City's economy grew by 9.5% in the first three months of this year, lower than 10% in the first quarter of last year. City Chairman Le Thanh Hai said at a meeting with city authorities on March 27 that the shortage of a skilled workforce in the city has unfavorably affected economic development.
"Many synchronized solutions are needed to solve this shortage," he said. The measures are part of the five leverage programs for the 2006-2010 period: the administrative reform and anti-corruption program; supporting shifts in economic patterns; housing program; Saigon Hi-Tech Park (SHTP) development program; and the construction of the Thu Thiem New Urban Area.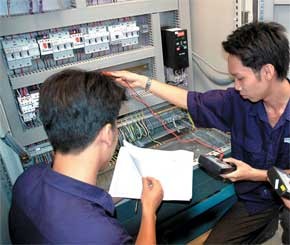 Students study electricity at the Industry College of Ho Chi Minh City (Photo: SGGP)
Mr. Hai said human resources planning will be playing a significant role in carrying out the five major programs.
Standing Vice Chairman Nguyen Thien Nhan said he has instructed the Ho Chi Minh City Department of Post and Telecommunications to work with major investors in SHTP to confirm their need of IT workers. Then, the department will cooperate with educational institutions in training to meet the demand.
Mr. Nhan said the city is encouraging Vietnamese and foreign organizations to invest in education and training in general.
He said the city's Center for Equipment Design and Production and Molds would begin operation in the second quarter of this year, and enterprises should take advantage of the center by placing orders.
Many participants at the March 27 meeting raised their concern about the shortage of a skilled workforce. Mr. Nguyen Chanh Truc, head of the SHTP Authority, said the Intel chip plant in SHTP would need more than 1,000 workers.