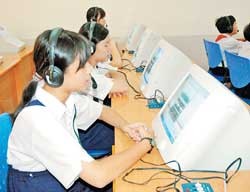 Pupils of Luong The Vinh high school learn English in multimedia lab.
As many as 100 schoolmasters and heads of Ho Chi Minh Ctiy's 24 district education divisions attended a meeting on Saturday in a bid to shake-up the education sector with a plethora of proposals.
Speaking at the meeting, Dr. Huynh Cong Minh, Head of the Ho Chi Minh City Education Department confirmed their determination to crack down on recent scandals in several high schools to win back public confidence.
Mrs. Hoang Thi Hong Hai, Head of Tan Phu district's education division expressed her huge disappointment over embarrassed education-related scams shaking the city, stressing they had eroded people's respect for a noble career like teaching.
"More severely, such scandals have seriously demoralized genuine teachers and hampered their enthusiasm for the career," she said.
Mrs. Hai strongly advised the city authorities to step up efforts to enhance teachers' responsibilities for their careers as well as adopt policies offering more reasonable wages for the academic profession.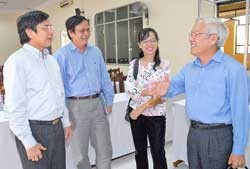 Ho Chi Minh City People's Committee Chairman Mr. Le Hoang Quan (R) and other participants at the meeting.
Mrs. Duong Thi Truc Bach, Head of Nguyen Thi Minh Khai high school, pointed out an evident mismatch of with such a large amount of knowledge, teachers having little time allotted to conduct their lessons.
Mr. Nguyen Thanh Tai, Vice Chairman of Ho Chi Minh City People's Committee pledged to take all proposals into serious consideration, particularly on the increase in teacher salaries.
He also instructed the education department to collect all contributions of attendants and report back by documents to the committee at the soonest.
Meeting correspondents on the sidelines of the meeting, the city's People's Committee Chairman Mr. Le Hoang Quan also said municipal authorities always made education development a city's top priority, confirming all promises for the shake-up would be delivered.
Ho Chi Minh City's education system has been racked with allegations of pay-for-enrollment scams, including one in a prominent inner-city high school, resulting in the school rector stepping down from her position.