Addressing more than 100 rectors and deans of northern universities and colleges, Mr. Nhan said Viet Nam's higher education system must move into the direction of training in conformity with the needs of the labor market and make the most of every school's potentials and human resource.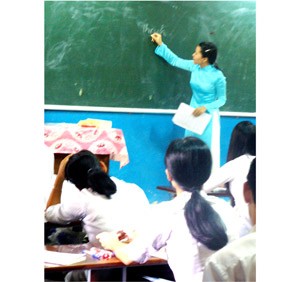 Teachers' salary will be adjusted (Photo:U.Phuong)
The minister also confirmed to solve teachers' salary as a matter of urgency.
The Education and Training Ministry will in September and October check its working procedure and solve issues raised by schools so that it can deal with each matter.
In November, the ministry will release its procedure and management by computer.
In addition, agencies under the ministry will also check their legal documents, adjust and add new regulations to these 10-year-old texts.
The one-day meeting discussed reviving training and scientific research, education quality control and lifting up the PhD training value to raise the nation's educational quality.