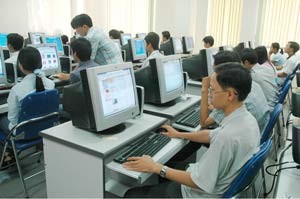 The HCMC University of Natural Sciences' students study at library (Photo: Mai Hai)
A one-day seminar on "Internationalizing Vietnamese Higher Education in a Globalizing World" was co-organized in Ho Chi Minh City on Oct 5, 2006 by the Vietnam Ministry of Education and Training (MoET), the Southeast Asia Ministerial Meetings Organization (SEAMEO) and the Netherlands Organization for International Cooperation in Higher Education (Nuffic) by way of its Neso (Netherlands Education Support Office) office in Vietnam with participation of a number of delegates from various universities and institutions in Ho Chi Minh City.
The seminar aims to provide delegates with an opportunity to share ideas and experiences and help them plan and design their internationalizing strategy, and to further support the process of internationalizing Vietnamese institutions of higher education in order to promote international cooperation and the mobility of students.
World's Trends and Practices of Internationalization
Addressing the seminar, Mr. Boris Dongelmans, Director of Neso Vietnam said that with Vietnam's social and economic integration into the world, Vietnamese universities have started internationalizing their institutions, education and academic endeavor. The process of internationalization is complex not only simply because universities are complex organizations but also because it means the university goes beyond its traditional organizational boundaries. In addition to this the world is a big place.
Therefore such questions as where to go, and how to internationalize, which aspects of the organization, activities or mandate are concerned when a university internationalizes should be taken into account. So should questions such as "What does it mean: lifting its teaching methods to a level that is international?", "Or will it start providing international recognized degrees?", "Or is the choice to just select focusing on the quality of the education that will be brought to an international level while other universities might choose to start teaching in English?" The experience of Nuffic is that internationalization comes in many shapes and sizes and is at times difficult to manage as an institution, an educator or an academic.
The next talk was delivered by Dr.Hanneke Teekens, Director of Internationalization, Nuffic, who briefed the delegates on international trends and practices in the internationalization of universities. She provided an insight in worldwide trends in internationalization with her in-depth experience with higher education sector in Vietnam as she worked on several Dutch funded education projects in Vietnam. Dr. Teekens mapped out an international university by first providing one of the many definitions of internationalization that should be viewed under four dimensions: political, economic, cultural and educational, and under three levels of internationalization: the macro level (national and supranational), the meso level (the university) and the micro level (the international university).
Dr. Teekens stressed that internationalization is a means and not an aim in itself. From a development perspective, it is absolutely essential that internationalization is measured, firstly, so that a course can be charted, and secondly, so that quality can be guaranteed and improved. What internationalization is, or how it is defined, is not a key concern here. What is relevant is how the various activities are conducted and what the relationships are between the various organizational forms. This determines the form – the archetype – that internationalization takes. The successful private institution with many specialized programs for international students; the internationally-oriented university with many specific partnerships linked to the research of a number of active professorships; the renowned university with an important international office where all lines come together; the university actively engaged in private projects. These are some of the easily recognizable archetypes, and it would not be difficult to add many more types. To be clear, archetypes refer to the organization of internationalization activities, and not to the substance of those activities.
Dr. Teekens then sketched out the main rationales for internationalizing higher education: research, cooperation for peace, stability in the region, position in the market of higher education, quality control and benchmarking, and globalize working and living conditions. She touched upon the issue of globalization versus internationalization, in which the former is a pro-active strategy while the latter 'happens' as a result of market forces and technology. Outlines of the new trends of internationalization, cooperation and competition in a globalized world, the role of academics, the university administration, the internationalization strategy, the organization of internationalization were also mentioned in succession by the speaker who concluded her lecture by noting certain challenges for international students. These include the mobility and culture shock, the complexity in higher education, the national interests and student's agenda, the legal framework in various countries, the number of years for BA and MA degrees, and last but not least, the costs.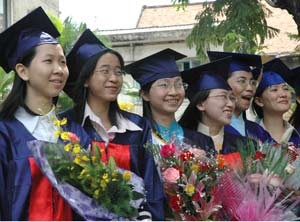 New graduates from the HCMC University of Pedagogy (Photo: Mai Hai)
Challenges of Internationalization in Viet Nam
Dr. Le Quang Minh, Rector of Can Tho University gave a sample of internationalization at his university. He analyzed the advantages and disadvantages of the process of globalization and integration in higher education from the perspectives of universities in Vietnam, a developing and economic-transition country, taking his university as a case study.
Dr. Minh pointed out the long existing problems in Vietnam's educational system. He said the rigid mechanism and hierarchy in education with orders and regulations imposed from "above" had resulted in a very low level of autonomy for universities in Vietnam, and in setting up numerous hurdles and barriers for the universities to internationalize in a globalized world. In addition, there are a large number of mono-disciplinary and small-scale universities in a complicated higher education system: national, regional, provincial, including 'no where' universities like his: Can Tho University.
Vietnamese universities have limited resources both in human and hardware, passive learning and teaching attitudes, a lack of interest in research (with major research funds going to research institutes instead of universities), and most of all, limited communication skills in English by a great number of the teaching staff and educators.
Dr. Minh showed a chart illustrating the three different velocities of reform in the transition period that Vietnam is experiencing. In his opinion, the flow of economic growth has gone too fast while that of the educational was several steps behind and the institutional speed of reform was too slow. This has evidently resulted in a whirlpool, which makes it difficult for any university in Vietnam to have a chance to become internationalized.
The consequences of these above-mentioned problems, he said, are that the development pace is much slower than required by the social/economic demands; the main focus of Vietnamese universities is on such chronic and immediate problems as staff income, equipment, quotas, regulations, entrance examinations, which lead to inward-looking attitude; and Vietnamese educational standards, norms and references are different from international ones, resulting in a lack of interest by the universities in internationalization, a lack of initiatives and self-motivation and an over-highly estimation for foreign universities.
What should be done to internationalize
From University's perspective

Dr. Minh gave a SWOT analysis of Can Tho University in its internationalizing process.
Strengths are that Can Tho University is a young, dynamic, pro-active and fast-growing university; has had strong and well-established links with the whole Mekong delta; has been employing multi-disciplinary and credit-system curricula; and is having a large number of international projects and programs in operation.

Weaknesses include a staff of very uneven quality and the human resources and hardware development is slower than the growth rate.

Opportunities are numerous since the university is one of the 14 key universities in Vietnam, which has advanced curricula and several WB- and ADB-sponsored programs and received favorable attention and investment from MoET, of which the project Mekong 1000 – MoET 322 plans to send 1,000 students to do their post-graduate study abroad.

Threats are the fact that the university is located in the lowest level of education nationwide: the Mekong delta, which has resulted in a very low level of human resources. Moreover, opportunities to do post-graduate study are available for top and/or excellent students only.

Dr. Minh advised any Vietnamese universities wishing to internationalize that they should make, firstly, a strategic plan with a sound SWOT analysis, then train a force of able officers who know how to design, manage and implement projects, and finally be cautious about selecting key international partner(s) since world renowned universities hardly have needs to cooperate with those in developing countries.
Next to this the university needs to network in an internationally professional association to be advantageous. The opportunity to benefit from higher education globalization depends on the good readiness of Vietnam's universities.
Representatives from other universities shared the same views on the internationalization of universities expressed by the rector of Can Tho University as they are also facing the same problems in trying to internationalize, in which human resources are the most problematic since those who have been trained overseas and capable of contributing their part to the internationalization of a university often do not want to work full time for the university.
From government's perspective

Full autonomy should soon be given to universities (as it is of international practice) so that they can freely and timely establish their preparation programs to enhance the readiness for internationalization (like businesses with their preparation programs to join the WTO). The universities' readiness for internationalization relies heavily on the MoET's current educational policy, which makes it difficult for universities to catch up with current trends of internationalization. Furthermore, the internationalization of Vietnam's educational standards and norms should also be done in line with international ones. The government by way of the MoET should act as a facilitator instead of a controller of university operations by creating more favorable conditions for sound universities to internationalize.